Afternoon, two games left to go in the season but most Royals fans have one eye firmly on next season's Premier League campaign. After the joy of Tuesday night Jamie Butler makes his Tilehurst End debut looking at the steps that led back to the Premier League after a four year absence.
A recent BBC programme featuring on another Southern based side to play in blue and white hoops highlighted a "4 year plan" to achieve Premier League football at Loftus Road. Strange then, how Reading's own "4 year plan" has panned out since relegated on that Sunny day in May 2008 at Derby and this post shall serve to highlight some of the least enjoyable milestones for Reading fans along the way.
Our first game back in the Championship was a Sunday kick-off away to Nottingham Forest which saw a team with Stephen Hunt playing at Left Back grind out a 0-0 draw in a largely forgettable game. For the first part of the 08/09 season, Reading looked to be heading back to the Premier League in style with Stephen Hunt and Jimmy Kebe dominating each wing week in, week out. 5 straight wins culminating with a classy 3-1 victory away to fellow promotion chasers Birmingham on the Saturday before Christmas 2008 had many Royals fans believing we were following the gold paved road back to weekly MoTD coverage and visits of the country's biggest clubs.

From there on in however, Reading looked a different side. Nervous, anxious, disjointed..you can use a whole host of adjectives to describe our performances after a narrow 1-0 win over table toppers Wolves in January 2009. That night, many would have been very confident of eventual promotion. Had you have told anyone that we'd be waiting 10 months for our next home win then you'd have been laughed out of town!
Not even the return of 106 team veterans Glen Little and Dave Kitson could help us, we really had mucked it up. In fact, their return arguably caused us to be worse off and only served to taint their memories amongst the Madejski faithful. Poor home performance after poor home performance - conceding a late equaliser to Charlton and losing 1-0 to Sheffield United particularly stand out - caused us to slip further and further behind Wolves and get dragged into the play-off mix. Through some miracle, we managed to keep a play-off place where (in true Reading fashion) we put in 2 abjectly poor performances and lost to eventual play-off winners Burnley. It says it all when the highlight of 2 play-off semi finals is Andre Bikey ripping his shirt off and going mental after being sent off.

A summer of change followed with Steve Coppell being replaced by Brendan Rodgers. Stephen Hunt, Kevin Doyle, Glen Little, Andre Bikey, Marcus Hahnemann, James Harper and Liam Rosenior left the playing staff and were replaced by Grzegorz Rasiak, Brian Howard, Ryan Bertrand, Matt Mills, Shaun Cummings and Brian Howard. After much media talk of Alex Pearce being the next John Terry and Brendan Rodgers being God's representative on Earth, the 09/10 season kick started with another drab 0-0 vs Forest with all the enthusiasm and energy of a bowl of soggy brussel sprouts. Reading's home form didn't improve and our away form wasn't much better either. In typical Reading fashion, we blew a 2-0 half time lead at newly promoted Peterborough to lose 3-2. 4 consecutive defeats followed soon after including a 3-1 defeat at West Brom with Shaun Cummings being left for dead by Jerome Thomas and pathetically chasing after him. Next up was a 4-1 defeat to the fake hoops of QPR and with a vocal element of Reading fans calling for Rodgers' head, things didn't bode well.
At last, on November 21st 2009, we ended a 10 month run without a home win after Rasiak stooped in to head home in the last few minutes. Brendan Rodgers charged towards the East Stand, beaming like a child who had good news for his parents. However, this was to prove too little too late and within 3 weeks, Brendan had been culled after daring to face up to Radio heavyweight Tim Dellor.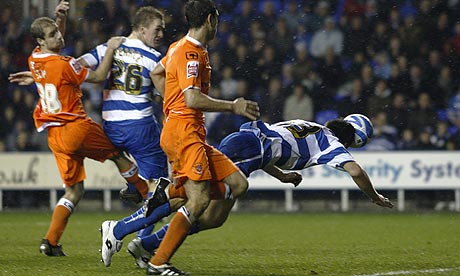 Brian McDermott was put in temporary charge and the general consensus amongst Reading fans was that he'd be keeping the seat warm for a more "established" manager such as Paul Ince or Darren Ferguson (hindsight eh!). That Christmas was not a pleasant one for most of us - we had some bald bloke in charge of us who's only quality appeared to be to look like Heston Blumenthal. A shambolic defeat away to struggling Plymouth had us tearing our hair out and reaching for the phone-ins and messageboards to vent our spleens at the destruction of our club. We forced Liverpool to a replay at Anfield after out-playing them for large parts of the initial 3rd round FA Cup tie. Disaster struck as goals from Sigurdsson and Long meant that we upset the giants and McDermott was appointed manager. We looked like we were going down and we were going down with a celebrity chef in charge. Brilliant!
A sensational run in the second half of the season (to be continued) saw Reading narrowly miss out on the play-offs and the form of Gylfi Sigurdsson in particular was a real highlight of this transitional season. April 2010 saw us witness 3 sets of fans ecstatic after results vs us. Newcastle's win at Madejski put them within touching distance of the Premier League, Scunthorpe's draw after our collapse kept them up and Watford's trouncing of us ensured they stayed up. As a football fan, seeing another set of fans so delighted by a result against us really, really, really hurt.
The 10/11 season began with a miserable defeat at the hands of Scunthorpe and any early season enthusiasm was cut short after Gylfi Sigurdsson was sold to Hoffenheim. The first half of this season saw us have some traditional Reading draws - consecutive dour 0-0 draws vs Leeds and Coventry respectively soon followed by a poor 1-1 draw away to Hull whilst the country lay beneath a blanket of snow immediately spring to mind. February 2011 saw us lose to QPR at home and seeing their fans celebrate a gritty, backs against the wall 1-0 victory was especially painful to watch. Just like us in February 2006, they knew where they were heading and we appeared to be heading in the opposite direction. That sensational run in the second half of the season (to be continued) struck again and we secured a play-off position. Unlike 2009, we reached the play-off final and faced ex-family member Brendan Rodgers and his cultured Swansea City side. Enough column inches have been writing about that game and it was one which will have hurt all Reading fans.
Summer of 2011 saw us sell arguably our 2 best players, Shane Long and Matt Mills. In came Bongani Khumalo, Kaspars Gorkss and Adam Le Fondre. Khumalo was soon exposed as having the football ability of a Year 5 child and soon disappeared without a trace after a farcical defeat away to Charlton in the League Cup.  5 straight defeats and Reading appeared to be a club nursing a big play-off final hangover. We became unable to score a goal in the first half of matches and drew 6 of our opening 14 league games. The advent of 2012 didn't improve our fortunes with a stinging 3-1 defeat away at Cardiff City proceeded by a shameful home defeat to Stevenage in the cup. Mathieu Manset was to be found drink driving, none of our strikers were firing on all cylinders and the squad seemed to be feeling sorry for themselves post-Wembley.
News soon broke of Madejski selling up to newly formed TSI, uncertainty set in and a calamitous goal lead to us losing at home to Hull. From that moment on however, Reading haven't looked back. The signing of Jason Roberts (aka The Big Bad Wolf) propelled us on to great things and yet another sensational run in the second half of the season saw us go from play-off also rans to play-off certainties, to automatic contenders, to promotion securers and now title contenders.

The statistics speak for themselves for this run we've gone on - 46 points from a possible 51 is amazing by anyone's standards and we now stand on the cusp of winning a second Championship in 6 years. Of course, there are numerous highs we've encountered on our route back to the Premier League - too many to mention - but hopefully this has gone to show that the long and winding road back to "the promised land" comes in many different guises. We've not made it easy for ourselves, often doing it the hard way; but us Reading fans once again have something to beam about.

A summer of excitement awaits us - now let's hopefully secure the title and end the season with a bang!