It wasn't too long ago that articles on Reading's tactics would have been pretty short and familiar. A simple 4-4-2 formation with a long serving manager. Those days though are long gone. Instead we enter the new season with our fourth manager in just two years.
That of course means another set of ideas and tactics for the players to learn, and for the fans to guess. This time last year I felt pretty optimistic after analysing Steve Clarke's tactics whilst recognising we were far from the finished article. My feelings are very similar this season, except that this time the causes for optimism come in attack and not defence.
Formation
I've said before in these articles that successful modern day formations have little resemblance to the ones you see on FIFA or Football Manager. If you can see a team's playing a certain formation it is probably a bad thing. You want movement in attack and a solid formation in defence.
One thing that has been very clear from pre-season is that Stam has brought about a welcome return to such a system. It was well publicised when he took over that he was going to favour the traditional Dutch 4-3-3 formation. That might be how the team lines up, but on the pitch it often looks different.
I noticed very early on in the friendly against AFC Wimbledon how high up the pitch the two attacking central midfielders played. They not only pressed high, they also looked to get forward as soon as Reading won the ball, and often ended up further up the pitch than the front three.
The two centre backs on the other hand, sat very deep looking to receive the ball from the goalkeeper, but would then look to defend on the halfway line when the ball did go into the opposition's half. Oliver Norwood operated just in front of them like an old-fashioned centre halfback.
The full backs did go forward, but not that often and only when Reading were controlling possession. The defence was effectively split into two lines, a two and a three.
It meant that Reading were often split into defence and attack. In fact if I had to say what formation it often resembled then it would be the W-W formation which was popular in the 1930s.
The two attacking central midfielders, or inside forwards, look to join the wingers and centre forward as an attacking five. The full backs push forward alongside the holding midfielder, whilst the two centre backs, or 1930s full backs, stay deep.
You will notice in this article how rarely you see any players circled in yellow and blue in the opposition's third in the screenshots I use.
Attack
To show the reasoning behind my thinking I'll start by looking at how Reading have attacked in pre-season and what positions the players have been taking up.
The picture below is taken from Reading's first friendly against Boreham Wood. The ball has been played to Yann Kermorgant, circled in red at the top, who will end up playing a lovely pass to Dennis Rakels who is at the bottom of the picture and also circled in red.
Kermorgant and Rakels were part of a front three. In this instance they were supported by George Evans and Danny Williams who have attacked from midfield.
We can see the same duo again getting forward in Reading's second friendly against Al-Taawoun. Evans and Williams are actually further forward than Rakels and Garath McCleary, who are the two wingers alongside the centre forward Joseph Mendes.
This attacking intent from the two players, circled in purple, is again seen in the two pictures below, against Swindon and Wimbledon.
As you can see they are really far forward, and there is a considerable distance between them and the holding midfielder and full backs (circled in yellow). They are pretty much as far forward as the front three (circled in red).
The most obvious advantage of this attacking intent is that Reading are getting lots of men forward. That was perhaps best shown by their goal against Bournemouth.
The picture below shows Rakels dropping off to play the ball out wide to Craig Tanner. Rakels and Tanner were joined up front by John Swift, who is at the bottom of the picture.
The front three (red) are being joined by Evans and Williams (purple). The below picture shows Reading having four men in the box by the time the cross came over. Such numbers are almost unheard of for a Reading team.
Yet there are plenty examples from pre-season of Reading flooding the box. Below are more pictures from pre-season, all showing how the attacking central midfielders (purple) are supporting the attackers (red).
There are three main advantages of having attacking central midfielders play so high up the pitch. The first we have already seen is that it allows Reading to get plenty of men into attacking areas.
The second is that it also allows Reading to play a high pressing game. This was particularly successful against Al-Taawoun when the Saudi Arabian side scored a comical own goal.
The picture below is taken just as the defender is about to receive the ball. Williams is the furthest forward player and has closed down the defender making the pass. Mendes is closing down the defender who scores the own goal.
Rakels, McCleary and Evans are all in the final third stopping any passing options. Even Tennai Watson (yellow) is in the picture. That goal showed how effective high pressing can be, but, as you'll see in our second article looking at Reading's tactics, there are dangers to it as well.
The third main advantage of almost playing a front five may come as a surprise. In the last few years short passing and dominating possession have been seen as the benchmark style to emulate. Football tactics though are constantly evolving and often go in cycles.
We have already seen how teams who play high pressing possession games can be negated when their opponents choose to sit deep and play at a quick tempo on the counter attack.
It is perhaps not surprising then that the long ball is back in vogue. It's a fairly obvious tactic when you're playing a Leicester City style tactic when you want to get the ball forward as soon as possible to your speedy attackers.
However, I think we'll start to see more teams using it even when they're in control of possession, which has made Jaap Stam's use of it potentially encouraging. It shows he can be pragmatic and flexible.
The idea is simple. When you get on the ball, get your attacking central midfielders to support the attack. That allows the centre backs or holding midfielder to have more options when they play it long. Not only that you also have more chance of winning the second ball.
It may sound primitive and negative, but it's not, if used properly. As long as Reading don't get lazy and use it too often, then this it could be another string to the bow to go along with the quick counter attacking and possession game we've also seen in pre-season.
The below gif shows this tactic working well. Paul McShane picks the ball up deep and then plays the ball towards Evans, who has got behind the defence and nearly scores. So when a defender or holding midfielder next plays the ball long, remember there may well be method in the madness!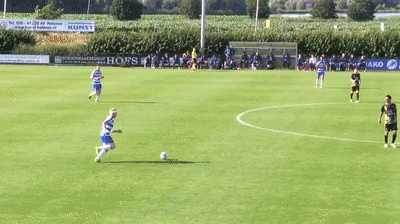 Keep an eye out for our second tactics preview when we look at how Reading's defence is coping with the "Dutch revolution".